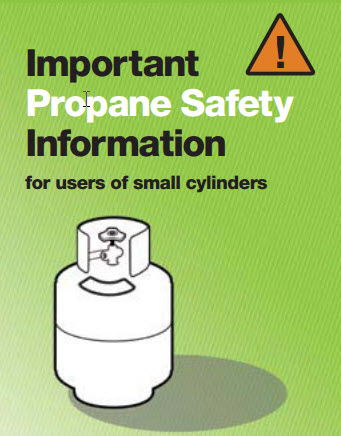 Share this information with your family to help keep everyone safe and to reduce the risk of serious and potentially fatal injury, fire, or explosion.
WHAT DOES PROPANE SMELL LIKE?
Propane smells like rotten eggs, a skunk's spray, or a dead animal. Propane manufacturers add this smell to help alert customers to propane leaks.
IF YOU SMELL GAS
Immediately put out all smoking materials and other open flames.
If you are able to, safely turn off the cylinder valve. To close the valve, turn it to the right (clockwise).
Immediately leave the area and call 911 or your local fire department.
Before you restart the appliance, have a qualified service technician inspect your cylinder and appliance.
TRANSPORTING SMALL CYLINDERS
ALWAYS transport and store a cylinder in a secure and upright position so it will not fall, shift, or roll.
ALWAYS close the cylinder valve and, if required, seal with a plug, even if  the cylinder is empty. Ask your propane retailer if a plug is required.
NEVER keep a filled cylinder inside a hot vehicle or transport it inside a closed trunk.
ALWAYS place the cylinder in a well ventilated area of the vehicle.
ALWAYS proceed directly to your destination and immediately remove the cylinder from your vehicle.
The law places limits on the number of cylinders and the amount of propane that can be transported in closed-bodied vehicles such as passenger cars and vans. Ask your propane retailer for more information on state and local codes that apply to you.
For these and more propane safety tips, please download this Propane Safety Brochure for users of small cylinders from Propane Education & Research Council.